Awards
Foreword Indies Book Awards
Historical Fiction -- WINNER Bronze Medal

Readers' Favorite Awards
Western -- WINNER Bronze Medal

Best Book Awards 2021
Fiction: Western -- Winner
Fiction: Historical -- Finalist

Firebird Awards 2021
Fiction: Historical -- Winner

Laramie Awards 2021
Finalist

Sarton Book Awards
Historical Fiction -- Short List (Current)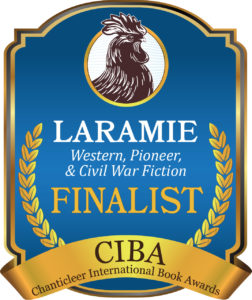 Reviews
". . . a startling, nuanced amalgam of past events and impressive, delicate literary creation. A dramatically engrossing and thoughtful novel."
—
Kirkus Reviews
"A stark portrait of both the worst and the best of human nature, compelling, unforgettable, and highly recommended."
— Midwest Book Review
"A melancholy piece of historical fiction that is as sincere as it is emotive. The powerful story will draw you in, but it is the intimate storytelling that will keep you absorbed as you experience Dovetails in Tall Grass."
—
Indies Today
"Pick up this book. Trust me. You will learn, grow, and be better equipped to amplify the voices of the underrepresented."
—Chasing Mr. Darcy Book Reviews
"Dovetails in Tall Grass" is a hauntingly beautiful historical novel that reminds us that there are always two sides to each story and that actions have consequences. It is recommended for fans of the genre who appreciate reading about the human side of war."
—
SA Examiner
"We are not preached at. We are simply told a story—but what a story it is."
—
English Plus Language Blog
"Do you like historical novels? Well-written books? Well-developed characters? Books that make you think? Then this book is for you. I give it 2 thumbs up!"
—
Grandma Ideas
"Dovetails in Tall Grass is a tragic but powerful story that author, Samantha Specks does portray beautifully. A book that readers should not miss."
- BeastReader
"My absolute favorite thing about reading historical fiction is learning something from our past that causes me to pause and reflect on what previous generations have gone through. Once I started this book, I knew that it would be a five-star read for me and it whole-heartedly was."
-Sincerely Stacie
"A powerful story told over the course of one year from two very different perspectives that brings to life a beautiful portrayal and heartfelt perspective to a very important time in history."
-Adventures in Literature
"Engaging and eye-opening historical fiction."
- Lone Star Lit
"The writing in this book is exceptional! Both of the main characters, Emma and Oenikika, are so addictive and captivating. As heart-wrenching as their perspectives are, you'll want to root for both of them but in different ways. The way their stories are intertwined is is so well done. I appreciate how deeply felt all the emotions were. This story will without a doubt make you feel angry, deeply saddened, and a yearning for justice."
-Bookedupbabe